Reddings opens new auction house | Local News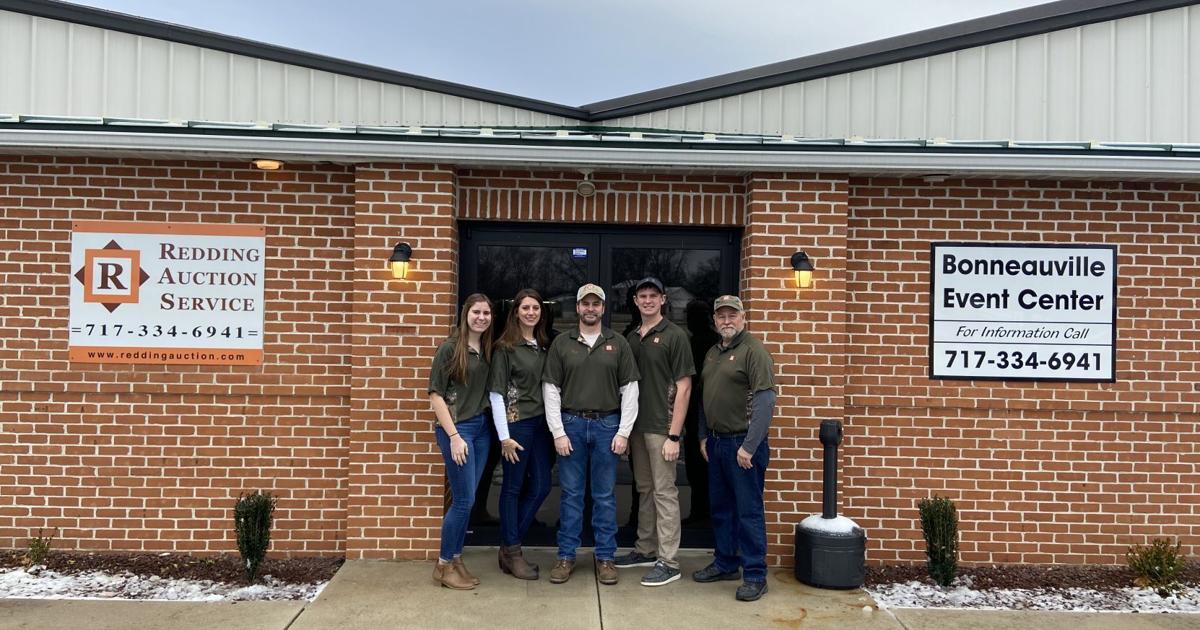 When the Redding brothers hit the hammer at the first auction at the Bonneauville Event Center, they will be doing so from the same auction booth their father did when he opened Redding Auction Service in 1974.
Like items for sale, the wood-frame podium found renewed utility in the hands of another.
"We're bringing some of the past into the future," said Pat Redding.
Auctioneers Pat and his brother Doug Redding will have their first chance to show off their new setup at 8:30 a.m. on Wednesday, December 29, when they host the Grand Opening Auction at 12 Elm Ave. located in Bonneauville.
Trailers full of inventory have been on hold for up to a year, waiting to be auctioned off with robust post-pandemic crowds. Bidders came back strong after taking time during the pandemic to take inventory of their belongings, Pat said.
"COVID has regenerated auction fever," he said. "We are dealing with people we haven't seen for five to eight years. They are starting to buy at auction again.
More than 150 people are expected on site as the brothers auction off coins, jewelry, carnival glass, furniture and antiques. Items are available for inspection at the location starting today, Tuesday, December 28, from 10 a.m. to 4 p.m. Customers can visit the website, www.reddingauction.comfor an auction schedule or to view items for sale.
The auction house's new location is no more than 15 minutes from the boroughs of Gettysburg and Hanover, ideal for local traffic, he said.
The Redding Auction Service, located at 1085 Table Rock Road, will continue to specialize in firearms auctions, for which the company has gained national recognition, Pat said.
The Bonneauville Event Center will become the company's newest destination for specialty sales, as well as auctions of antiques, housewares and merchandise.
The facility, formerly the Fire Department Banquet Hall and more recently the Little Everett Social Hall, is 10,000 square feet with a 6,000 square foot showroom and large multi-purpose kitchen.
Previously used to hold special events, the Redding family is also looking at ways to continue using the facility for this service. External catering services will however be necessary.
"When we first purchased the facility, people called because they were using the facility for weddings and Christmas parties," Pat said. "We want this facility to remain part of the Bonneauville community.
The new facility gives potential customers more direct access to items soon to be auctioned. It provides more storage for items purchased during estate sales, which account for 90% of business, Pat said. It will also make it easier for staff to prepare items for shipment, Pat said.
The new facility is the latest adaptation the Reddings have made to stay relevant in an increasingly online era. Buyers now have the option of bidding online, by phone or by purchase order, rather than having to be on site, he said. The family business also refuses to charge the buyer a premium, Doug said, adding that the company makes all of its money on the seller's commission.
The Reddings now use print, social media and online advertisements to drive traffic to the company's website, which features information and photo galleries related to items for sale.
another website, www.auctionzip.com, helps potential customers find out how to find items that will soon be auctioned within a specific radius. Although many items come from Pennsylvania and surrounding states, customers from across the country are participating in the sales, he said.
"We do sales seven days a week," he said. "Even Sunday sales."