RAK Finance Department and Emirates Auction Strengthen Cooperation in Hosting Online Auctions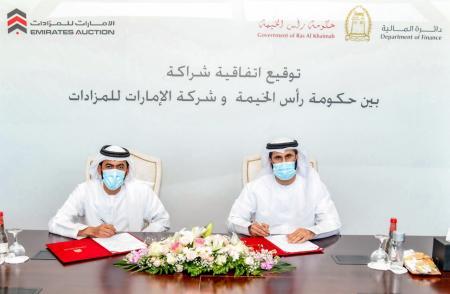 Ras Al Khaimah: RAK's finance department recently signed a partnership with Emirates Auction, the leading company in the field of management and organization of public and online auctions in the Middle East, to organize exclusive auctions for the sale of all assets belonging to the RAK government.
The agreement was signed at the departmental headquarters by His Excellency Youssef Ali Mohamed, Managing Director of RAK's Finance Department, and His Excellency Abdullah Matar Al Mannai, President and Managing Director of Emirates Auction, in the presence of senior officials from both parts.
Speaking about the deal, Youssef Ali Mohamed said, "Our partnership with Emirates Auction would help support comprehensive development plans and programs and ensure the effective implementation of financial policies, as well as utilizing the most intelligent systems for the benefit of stakeholders, in accordance with the highest international practices and standards.
He went on to say that the agreement is part of the Department's painstaking efforts to improve performance and speed up the completion of transactions, in line with the wise vision of His Highness Sheikh Saud bin Saqr Al Qasimi, Member of the Supreme Council and Ruler of Ras Al Khaimah, in terms of intensifying efforts to continue the development process of the emirate.
For his part, Abdullah Matar Al Mannai said, "The deal would help expedite asset transfer procedures with the highest return, thereby saving time, effort and cost."
Al Mannai affirmed that Emirates Auction will make the most of its resources and capabilities, as well as apply best practices and standards in a transparent and dynamic manner to achieve the goals of RAK's finance department and bring happiness to its customers. .
He pointed out that the partnership has a dual purpose: first, to bring lucrative benefits to RAK government departments; and on the other hand, to display movable property at competitive prices, using the best international online auction systems.
© Press release 2020