Online auctions offer bidders new options | Information about antiquities and teaching history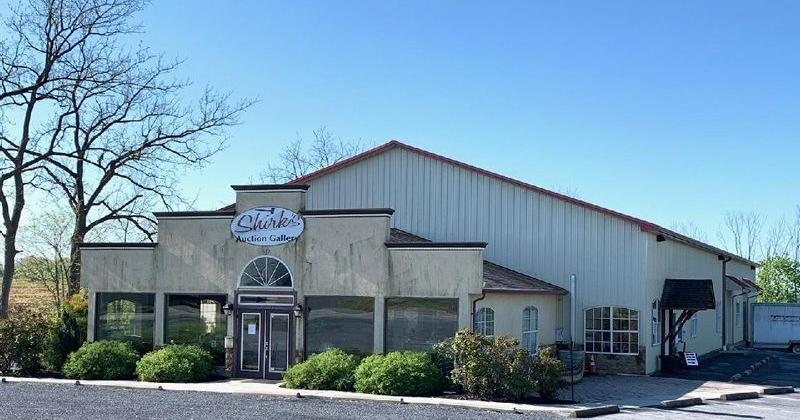 Long-time enthusiasts are used to the frantic pace of an auctioneer calling the bids before his hammer slams with a shout of "Vendu!"
This scenario came to a temporary end in Pennsylvania and many other states in mid-March when the highly contagious COVID-19 pandemic hit and large gatherings were banned. To slow the spread of the disease in Pennsylvania, Governor Wolf banned gatherings of more than 10 people and then implemented a stay-at-home order. What followed inadvertently helped usher in a new era for some auctioneers and their bidders.
It seems abnormal to hear the sounds of silence at an auction house these days, but that doesn't mean there aren't auctions going on there. It may simply mean that they are conducted in a different way.
Online sales have been around for years, starting with websites like eBay and Craigslist that allowed sellers to post their own items for sale to online bidders. A growing number of professional auctioneers have also moved their sales to the Internet in recent years.
Roy Shirk of Annville, Pennsylvania has been an auctioneer for over 25 years and became the owner of Shirk's Auction Gallery about eight years ago. Before the COVID-19 pandemic, he held weekly live auctions at the gallery, drawing 200 to 225 bidders and viewers on Tuesdays.
These auctions involved the use of three auctioneers and typically sold antiques, household goods, and an occasional vehicle. He also hosted specialist auctions at the gallery, such as those for firearms, several times a year. Otherwise, the 30 or so real estate sales held in the auctioned premises formed a significant part of Shirk's business.
Shirk admits he had been considering trying online auctions for some time.
"We talked about it for years," he said. But Shirk's existing sales schedule was simply too busy to allow for further investigation.
That all changed when state-imposed pandemic restrictions gave Shirk plenty of time to explore options other than the live auctions they could no longer run.
The process of integrating online auctions into Shirk's auction gallery services menu turned out to be easier than expected. Their research led them to HiBid, an integrated web service and auction platform that is part of Auction Flex, an auction software provider. Shirk praises the software and credits an online tutorial with helping his business get started and running.
Shirk's Auction Gallery launched its first online auction on April 9 and now conducts two sales per week, mostly items that would normally have been auctioned off in their gallery.
Although there is a fair amount of trial and error involved, like knowing how many lots to combine in one auction, Shirk said, "Things are selling really well."
"We just shipped a sign to Alaska," he said, mentioning sales to other buyers as far afield as Texas and California.
Shirk's Auction Gallery has also found another useful online resource for their business. "AuctionZip has been huge for us," he said of the website that lets customers search for auctions online for free; fees are paid by the Subscription Auction.
According to him, Shirk's Auction Gallery typically ranks in the top three to five spots among the top 10 most-watched auctions in Pennsylvania listed on AuctionZip. Typically, Shirk gets 8,000-10,000 hits over a two-week period for general merchandise, with slightly fewer responses for real estate auctions.
"Our presence has really grown over the past few years," Shirk said.
Shirk's Auction Gallery, located in a spacious 10,000 square foot building along Route 934 in North Annville Township, houses not only an auction room and warehouse, but also a reception area and refreshment stand .
Given that his clientele includes senior citizens, who relished the weekly on-site auctions as a place to meet their friends and grab a bite to eat, Shirk wasn't sure what to expect when the pandemic forced his business to go. in an online format.
Looking back, he believes the unique circumstances made the transition to online auctions easier.
"People have been really good. We haven't had a lot of backlash," Shirk said. However, he also acknowledged that the switch has been difficult for some older customers, who don't have computers or smartphones, or don't know how to use these technologies. For customers needing instructions, Shirk encourages them to call his auction gallery, so he or other staff can walk them through the setup and online auction process.
Fortunately, online auctions are simple, he said. For those who don't know, this is the process. A potential bidder logs on to www.shirksauctions.com. Then clicking an on-screen button will take you to the online auction where a login is required. Online bidders love this process because each of Shirk's online auctions are open for seven to 10 days.
Not only can bidders view three to five photos per item and submit bids from the comfort of their own home, there is no need to attend a full live auction to bid on specific items.
Online bidders can either submit a maximum bid or choose to follow the auction and submit multiple bids in response to bids made by other bidders. Shirk points out that at the start of an online auction, price increases usually build slowly.
Unlike online eBay auctions, where a bidder can click at the last moment to become the successful buyer, Auction Flex software offers "slow closing". If bids are submitted in the last two minutes of the auction, the auction close is automatically extended by three minutes. Shirk said this feature also works to the seller's advantage.
Once the auction is final, the winning online bidder is notified, pays by credit card, and arranges to pick up the item at Shirk's location or have it shipped by Shirk. Customers picking up items bring the invoice emailed to them; social distancing is observed when picking up at Shirk's Auction Gallery warehouse.
Shirk believes that online auctions are beneficial to his business in several ways. First, he opened his market to a whole new clientele, from across the country and beyond.
There is also less labor than for a live auction, which requires a clerk, several auctioneers and runners, as well as staff for the snack bar and office. The fee schedule for goods sold online is the same as Shirk's live auctions.
Regarding the disadvantages of online auctions, Shirk cites the difficulty of selling lots of assorted items. He also finds that bidders prefer to see and touch the items before buying them.
While its online auctions now use display photos, when coronavirus restrictions are lifted, Shirk plans to hold preview times when bidders can visit the auction gallery to view the merchandise in person.
A personal downside of online auctions for Shirk is that he misses bidding and working with the crowd.
"I can't wait to do it again," he said.
In the meantime, he continues to run print ads to keep his auction gallery's name in the public eye and refer customers to a comprehensive list of items on the Shirk Auction Gallery website.
Shirk's auction gallery can be reached at [email protected] or 717-685-4226.